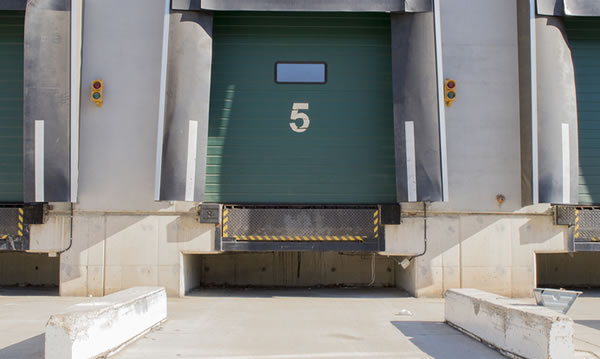 Dock Levelers also known as dock boards, or dock plates are necessary to bridge the gap between your loading area and the trailer trying to load or unload goods at your facility.  It's quite common for trailer heights not to always match up exactly with the loading dock height which obviously can issues when employees are trying to remove cargo with handtrucks and forklifts.  It's not only a safety issue but huge inconvenience to work around.  Dock levelers solve this problem for you.
DoorTech Industries is a local, family owned commercial door and loading dock service company in the Lower Mainland.  We've been providing expert dock leveler services for over 35 years.  We can service and repair any make or brand of dock leveling system and in the case of a new facility, or dock leveler replacement we can install entirely new units as well.
Dock Leveler Services in Vancouver BC
Dock Leveler Installations
Dock Leveler Repairs
Dock Leveler Parts
Dock Leveler Maintenance
Upgrades From Manual To Hydraulic
Scissor Table and Elevating Dock Repairs and Maintenance
Dock Leveler Parts and Repairs in Vancouver BC
When one of the dock levelers at your facilities decides to fail it leaves that loading bay essentially useless.  Maybe you're a smaller company and it's your only loading dock, essentially shutting down your flow of product?  You need a company that be there quickly and with parts for the necessary repairs on hand.
DoorTech Industries can provide 24 hour 365 day repair services for any make or model of dock leveler.  One of our fully equipped service trucks can be dispatched usually within the hour for same day service on your dock leveler.  Our licensed and insured technicians will arrive, in a fully equipped repair truck complete with parts and tools to complete your repairs right then.
Vancouver BC Dock Leveler Maintenance
You might manage a large warehouse or commercial facility and have a dozen or more loading docks, with individual dock levelers in each bay.  This can be a lot of maintenance work to organize and you'll need to hire the right people to handle this "in house".  It's probably a much better choice to find a reliable company you can trust to maintain your loading dock levelers.
We offer complete dock leveler maintenance packages for lower mainland commercial facilities.  From hydraulics to electrical to custom fabrication and metal repairs our dock leveler technicians can make sure your dock levelers are always working and maintained to minimize any downtime with your business.  We keep detailed records of all maintenance work performed and provide them to you so you have a written record.
Dock Leveler Installations Vancouver BC
Are you adding additional loading bays to your facility? Maybe you'd like to upgrade your dock levelers to a newer model or one with more functionality?  If you need dock leveler installations in the Lower Mainland then DoorTech Industries is your one stop shop.  We've been specializing in dock leveler and commercial door systems for over 35 years.
If you need help with a dock leveler system in Vancouver, BC then give us a call today or fill out our online form and we'll be contacting you promptly.