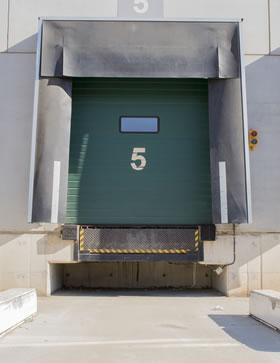 Busy loading docks have trucks and trailers using them all day long.  It shouldn't be too much of a surprise that when subject to the heavy abuse of trucks and trailers constantly hammering them, loading dock systems will fail over time.  Your loading dock utilizes hydraulic systems, electrical systems and mechanical parts that when abused or misused will fail and become inoperable.
Loading dock levelers, truck restraints and overhead doors are usually the most common systems that fail.
DoorTech Industries is a full service loading dock repair company.  Our skilled technicians are well versed in dock leveler problem diagnosis and repairs, truck restraint system repairs, overhead door repairs and any other repair that would be directly associated with the functioning of your loading docks.  We offer a 24 hour emergency service for loading dock repairs throughout Greater Vancouver and the Lower Mainland.
Loading Dock Repair Services Vancouver BC
We over a variety of repair and maintenance services for loading docks and warehouse facilities.  If you don't see something mentioned but it falls under your a commercial door or loading dock system then we can repair it for you.  Just call and ask. (604) 315-3667
Truck and Trailer Restraint Maintenance and Repair
Dock Seal Replacement
Overhead Door Repairs
Loading Dock Welding Repairs
24 Hour Emergency Service
We Offer Service and Repair For All Makes of Loading Dock Systems
Blue Giant
Serco
Nordock
Kelley
Pacific
Pentalift
Vancouver BC Loading Dock Maintenance
Often, the repairs we make on your loading dock are problems that could have been avoided with a regular maintenance program.  At the very least a problem could have been spotted before it became a catastrophic failure, resulting in your phone call to us.  When our technician is at your premises to repair your loading dock, it would be a good time to discuss with them our preventative maintenance programs we offer for busy loading docks and warehouses in the Vancouver area.
If you only have a single loading dock at your commercial facility then maintenance might not be such a time consuming job. However, if you've got a dozen or more loading docks and many employees and 3rd party freight companies using them everyday, it can become a very tedious management job.  Loading docks that are poorly maintained are frequently the cause of workplace accidents across Canada.
For the safety of your employees and others that use your facility it's important you have a professional company repair and maintain your loading dock systems.