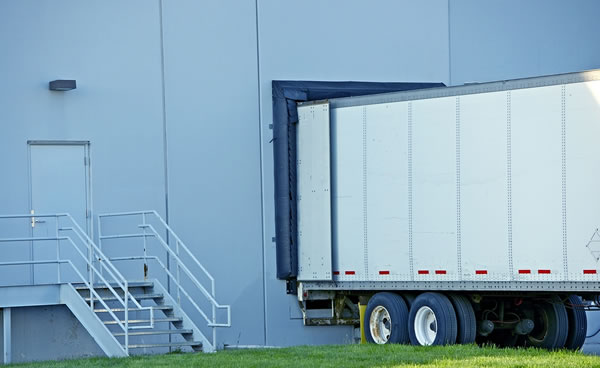 Truck restraint, trailer restraints and dock locking safety systems are an integral part of your loading dock.  Safety is paramount with your commercial operation and properly installed and working truck restraint systems will keep a trailer locked into position while being loaded and unloaded at your loading bay.  This practice helps prevent dangerous accidents from occurring as the trailer jars around.
DoorTech Industries is a full service loading dock supply and service company in the Lower Mainland.  Family owned and operated we 've been helping commercial building owners and managers with their loading dock solutions, including truck restraint systems for the last 35 years.
Our licensed and insured loading dock technicians are very experienced with truck restraint systems.  If you need repairs, service or a new truck restraint system installed we can dispatch one of our fully equipped service trucks to your location usually the same day for service and repair.  For new installs we usually need a few days notice.
Truck and Trailer Restraint Systems
Truck Restraint Systems
Trailer Restraint Systems
Restraint System Repairs
Restraint System Maintenance
Restraint System Installations
Truck and Trailer Restraint Maintenance
The truck and trailer restraint systems in your loading bay rely on mechanical, electrical and hydraulic systems to work properly.  As you well know, mechanical systems can fail over time, or due to an accident or employee misuse.  We offer a comprehensive maintenance program for not just truck restraint systems but your entire loading dock.
Our skilled technicians can regularly perform the standard maintenance required on your loading dock and truck restraint system.  Our fully equipped service trucks are ready-to-go 24 hours per day.
Truck and Trailer Restraint Installations
Are you expanding your facility and adding more loading docks?  Building an entirely new shipping facility and looking for estimates on a complete loading dock solution?  DoorTech Industries is equipped to handle any size or scale of loading dock project in the Lower Mainland.  We can install your entire loading dock safety system including truck restraints, dock seals, dock levelers, dock shelters and more.