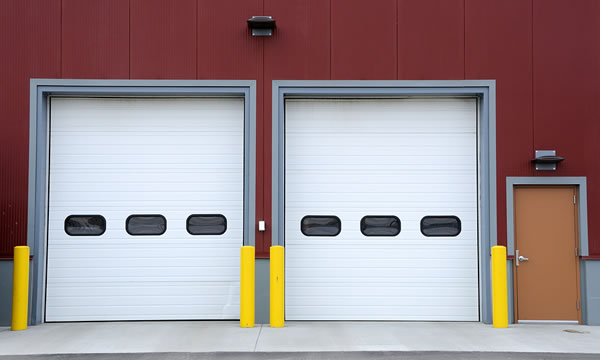 Sectional overhead doors are generally designed for medium to large scale commercial businesses, warehouse operations, automotive service shops, car dealerships and other facilities that need large openings in their buildings.  Depending on the application sectional overhead doors can be made out of steel or aluminum, they can be insulated, or they can have windows for better visibility.
DoorTech Industries is a local Vancouver area commercial door company that specializes in the sales, installation, service and repair of section overhead doors.  For over 35 years we've been providing the Lower Mainland with expert commercial door services.  Our fleet of service trucks are manned with licensed, insured DoorTech Industries technicians who are well trained in the service, repair and installation of sectional overhead doors.
Sectional Overhead Doors in Vancouver, BC
Sectional Doors For Service Bays
Sectional Doors For Warehouses
Sectional Overhead Door Replacement
Sectional Overhead Door Repairs
Sectional Overhead Door Installations
Insulated Sectional Overhead Doors Vancouver, BC
Commercial warehouses that store food and require cooler temperates often require insulated sectional overhead doors.  You need the large opening in your building to load and unload cargo but at the same time you don't need to spend a large amount of money on your energy bills either.  Insulated overhead sectional doors solve this problem.  DoorTech Industries can provide sales, service, repairs and installations of insulated sectional doors throughout Greater Vancouver.
Aluminum Sectional Overhead Doors Vancouver, BC
Large service centers, automotive dealerships, fire stations, showrooms and other buildings that require maximum visibility through their overhead doors usually get aluminum sectional overhead doors.  These doors can have various window patterns, come in different anodized finishes and models.  Aluminum overhead sectional doors are light weight and meant to withstand the rigours of busy service centers and constant use.  DoorTech Industries can provide sales, service, repairs, and installations of aluminum sectional overhead doors throughout Greater Vancouver.
If you need sectional overhead door maintenance, service, repairs or installations for your commercial facility in the lower mainland then give DoorTech Industries a call today or fill out one of our online forms and we'll be getting back to you promptly.