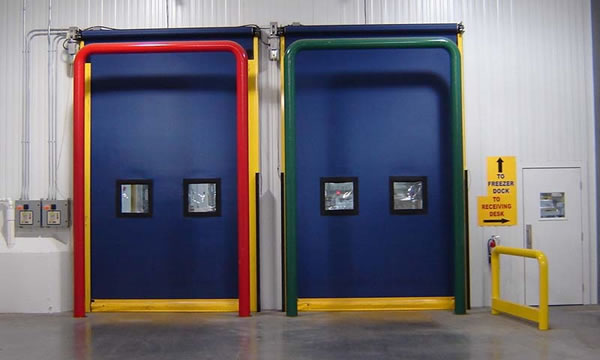 High speed roll up doors can help increase the productivity of your business if you are moving lots of goods of around.  High speed doors are designed for environmentally sensitive areas such as freezers, coolers and hot rooms.  In busy warehouses these doors can cycle hundreds of times per day, thousands of times per week so reliability is critically important.
However these door systems are mechanical and every business or building knows that the mechanical aspects of your business can always fail and usually when it's most inconvenient.  Your high speed roll up door system isn't something you want failing.  It slows your business down, slows production, can jeopardize the goods you are storing and costs you money.
DoorTech Industries is a local, family owned company providing Lower Mainland business and warehouse owners with high speed roll up door solutions.  With 35 years of experience in the door industry we have worked with many different types of high speed roll up door systems and many different applications.  From the food and farm industry to warehouses, to government, health and public facilities.
Our technicians are licensed and insured and highly experienced when it comes to high speed roll up door systems.
High Speed Door Systems Vancouver BC
Rapid Roll Doors
High Speed Roll Up Doors
High Speed Dock Doors
Roll Up Dock Doors
High Speed Door Repairs
High Speed Door Maintenace
Doors Systems For Coolers and Freezers
Door Systems For Hot Rooms
High Speed Roll Up Door Maintenance
Your high speed door system operates many cycles every day, likely thousands of cycles per year.  This puts wear and tear on the mechanical parts and will eventually lead to failure if the door is not properly maintained.
DoorTech Industries offers tailored high speed door maintenance for building owners and managers in the lower mainland.
Our trained technicians can service your doors to make sure they are running great all the time and we'll be able to spot any potential problems long before they become very expensive repairs.  We can also let you know of any safety issues with the door system as well, which should always be a major concern with mechanically operated door systems.
High Speed Door Installations
Do you need a high speed door solution in your new building, or several?  DoorTech Industries are licensed dealers and installers for the best brands in the high speed door business.  We can have custom high speed doors built for any application.  If you need a high speed door installation in the lower mainland then give DoorTech a call today.