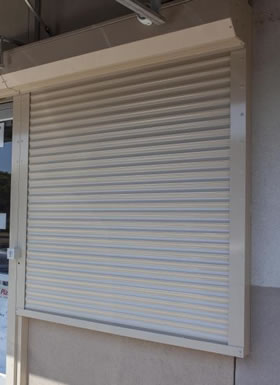 Looking for rolling counter and window shutters for your Lower Mainland business?  And a company that can repair, service or custom build and install them for you?  Rolling window shutters and counter shutters are often required as an extra layer of security and peace of mind for the business owner.
DoorTech Industries is a full service commercial door company in Greater Vancouver.  For over 35 years we've been providing custom rolling steel and aluminum window shutters, counter shutters and even doors for businesses and buildings of all types.  We've provided rolling counter and window shutters to retail stores, pharmacies, fast food restaurants, mall kiosks, medical facilities, community buildings, schools and more.
Our rolling window and counter shutter systems can be custom made for your specific application and gave have additional functionality such as electrical push-button operation, several different models and colors are available too.  If you're planning some new construction or the renovation of an existing facility and you've found the need for rolling security shutters in your application then give DoorTech a call immediately.
It's best to get us involved in the process as early as possible so we can go through the many available options and help you make the decision that's best for your building.
Rolling Steel Window and Counter Shutters, Vancouver BC
Custom sized rolling steel shutters
Rolling steel for windows, doors and counters.
Rolling steel window repairs
Rolling steel door repairs
Rolling steel door fabrication
Electrical Operated Steel Shutters
Manually Operated Steel Shutters
Reliability, dependability and security are three things that can never be compromised with your rolling shutter security system.  When you hire DoorTech to provide your rolling shutter security solutions you're partnering with a locally owned family run company that's been help Vancouver business owners with their rolling security shutters for more than 35 years.
It doesn't matter how simple or how complex your rolling security shutter requirements are.  DoorTech Industries will be able to provide you with a custom solution for your building.  From installation, repairs, service or maintenance we're you're one stop shop for everything rolling security shutters in Vancouver.